Tech Note:
AHV: The Acropolis Hypervisor
AHV is an enterprise-ready hypervisor, offering integrated virtualization, app mobility, management, operational insights, and security.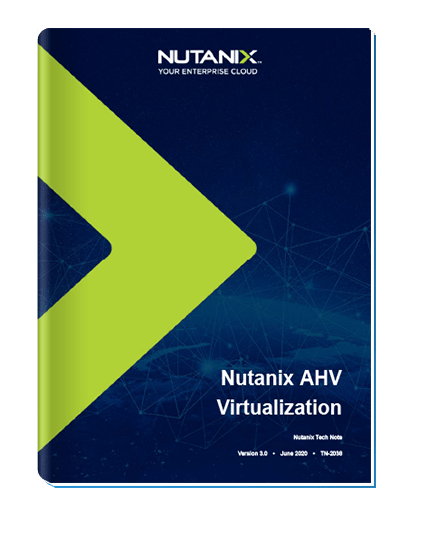 The Nutanix solution offers powerful virtualization capabilities, including core virtual machine operations, resource scheduling, live migration, high availability, and virtual network management, as fully integrated features of the infrastructure stack rather than as standalone products that require separate deployment and management.

AHV represents an integrated, cloud model approach to virtualization that offers substantial benefits to enterprise IT administrators by simplifying every step of the infrastructure life cycle, from buying and deploying, to managing, scaling, and supporting. Natively integrated with the Nutanix Enterprise Cloud, AHV is built on proven virtualization technology and is ready for the most demanding enterprise workloads.
Download this tech note to learn more about:
The Nutanix Enterprise Cloud.
The industry's most popular hyperconverged solution.

Configuration maximums and scalability.
Integrated virtualization and management capabilities.
Applying one-click simplicity to the IT infrastructure life cycle.
Nutanix is committed to ensuring your privacy. Your email address will be used to deliver the information you have requested and may be used to deliver other news about Nutanix. You can unsubscribe at any time. Please review our Privacy Policy for additional details.